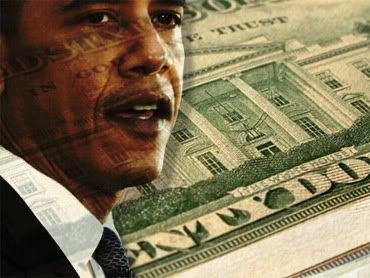 President Obama
spoke about his 2011 budget proposal and the $3.83 trillion deficit at a press conference this morning. The press conference comes on the heels of some rather optimistic economical news. According to the
New York Times
, the US economy grew at an annual rate of 5.7%, the fastest growth rate since the third quarter of 2003. From
The New York Times
:
The United States economy grew at its fastest pace in more than six years at the end of 2009, even as businesses resisted hiring and continued to do more with less.

The broadest measure of economic activity, gross domestic product, expanded at an annual rate of 5.7 percent in the fourth quarter, after a 2.2 percent increase the previous quarter.
"It was an excellent report, but it's not clear how sustainable this pace of growth is," said John Ryding, chief economist of RDQ Economics.
The growth rate was the fastest since the third quarter of 2003, when the economy grew at a rate of 6.9 percent. But even 2009's fourth-quarter surge was not enough to overcome a terrible start to the year. The economy finished 2009 with its biggest contraction since 1946, when the country was still cooling off from World War II.

The Obama administration seized on news of the latest upturn as an opportunity to push its proposal to encourage hiring. Companies would receive a tax credit of up to $5,000 for each new hire, and an additional credit on Social Security payroll taxes for raising wages — by increasing hourly pay or work hours, for example — in excess of inflation.
"Now's the perfect time for this kind of incentive because the economy is growing, but businesses are still hesitant to start hiring again," President Obama said in Baltimore. (Read the full article)
As with most fiscally conservative budgets, the 2011 budget is already receiving some backlash. Among those not happy is NASA, who could see their
Constellation Program cancelled
, if the budget is approved.
Though Obama's budget seeks to reduce spending while still incentivising job creation, some Republicans are also not happy.
Politico
reports:
Republicans are ripping into Obama's fiscal 2011 budget today, criticizing the spending increases, record deficits and tax increases on the wealthy.
House Minority Leader John Boehner (R-Ohio) hinted at hypocrisy in the White House's budget, which was delivered to Capitol Hill this morning. He said that Obama spoke about "the importance of fiscal responsibility" at his conference's retreat in Baltimore last weekend but delivered a budget that "spends too much, taxes too much and borrows too much." (Read the entire article)
Video of this morning's press conference is below.