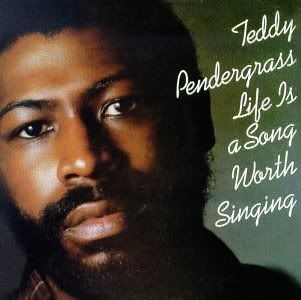 Legendary R&B vocalist
Teddy Pendergrass
was
pronounced dead yesterday
while hospitalized at Bryn Mawr Hospital in Philidelphia. The 59-year old singer underwent surgery in 2009 for colon cancer and had some difficulties recovering.
Teddy Pendergrass had an illustrious vocal career that spanned over two decades. A true R&B artist, he released 20 albums and countless singles between 1977 and 2004 and received 5 Grammy nominations. Some of his most notable hits include:
Close The Door (1978)
Come On Over (1979)
Turn Off The Lights (1979)
Love TKO (1980)
Your My Latest, My Greatest Inspiration (1982)
Joy (1988)

In 1982 Pendergrass suffered a sever spinal cord injury after a car accident that left him paralyzed from his waist down.
It is a sad day in music. Below find some Teddy tribute tunes.