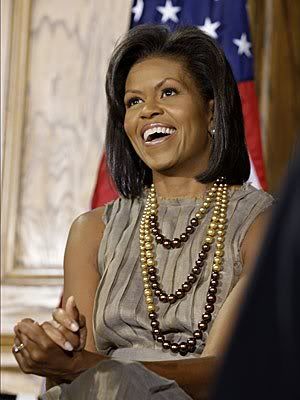 In reflection over her first year as first lady, Michelle Obama says she wouldn't do a thing differently. An article in the
Chicago Tribune
reports that Mrs. Obama has no regrets about her inaugural year in the White House and though she will not grade herself, she says she is pleased with her freshman endeavors.
Mrs. Obama sat with seven reporters for an hour-long interview to discuss her first year. During the interview she highlighted the White House garden, her pet project that has produced 1,000 pounds of food, and the White House Bees, which have produced 100 pounds of honey. Her most cherished accomplishment of last year though, was getting her daughters acclimated to their new lives. She says it was a major relief to find the girls fitting in well to their new school and their new semi-public roles.
During the interview, Mrs. Obama spoke on a variety of topics including the causes she is most passionate about - healthy eating, mentoring, supporting military families, and childhood obesity. She also spoke about Chicago losing the bid for the Olympics, her family and friends, and remaining Michelle even as the first lady.
Get the full details on the interview at the
Chicago Tribune
.